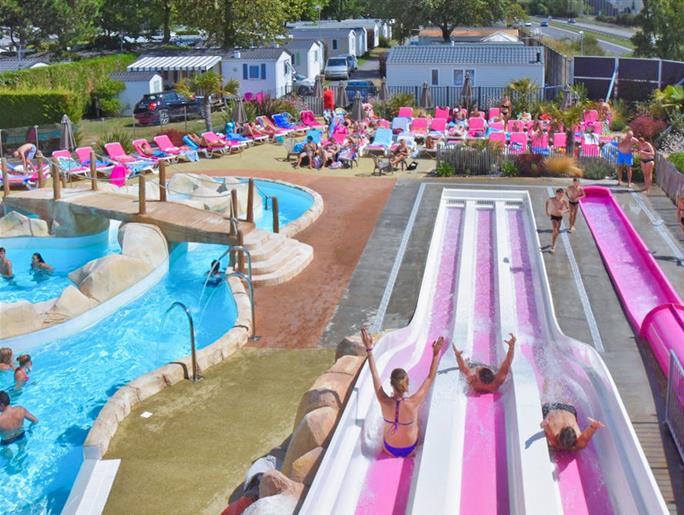 Campsite La Roseraie has an indoor heated pool, open throughout the entire season whatever the weather!
The slide is great for family fun and there's an outdoor and indoor baby pool as well as plenty of sun loungers to soak up the sun.
The must : whirlpools and water jets!
During summer, share a good moment by participating at the

sportive

activites

and

aquatic

games!
A total lenght of slide of 180 meters
Thrills guaranteed !!
Children aged 13 and under and non-swimmers under 18 must be accompanied by a responsible adult.
Parents are responsible for their children at all times, including when campsite staff are present in July and August.
Conditions of use and safety instructions are displayed at the entrance to the pool.
NB : due to local authority hygiene regulations, swim shorts are prohibited. Please wear swimming trunks or swimsuits
Make sure you use the foot bath and showers before entering the pool. There are plenty of handy shelves available to store your shoes.
Covered swimming pool is opened from April to September
Outdoor swimming pool is opened from May to September
Open from 10am to 8pm in July and August
Open from 11am to 7pm out of season.
Depth from 1m to 1m30
Covered heated pool at 28°C
Outdoor heated pool from 7July to 28 August